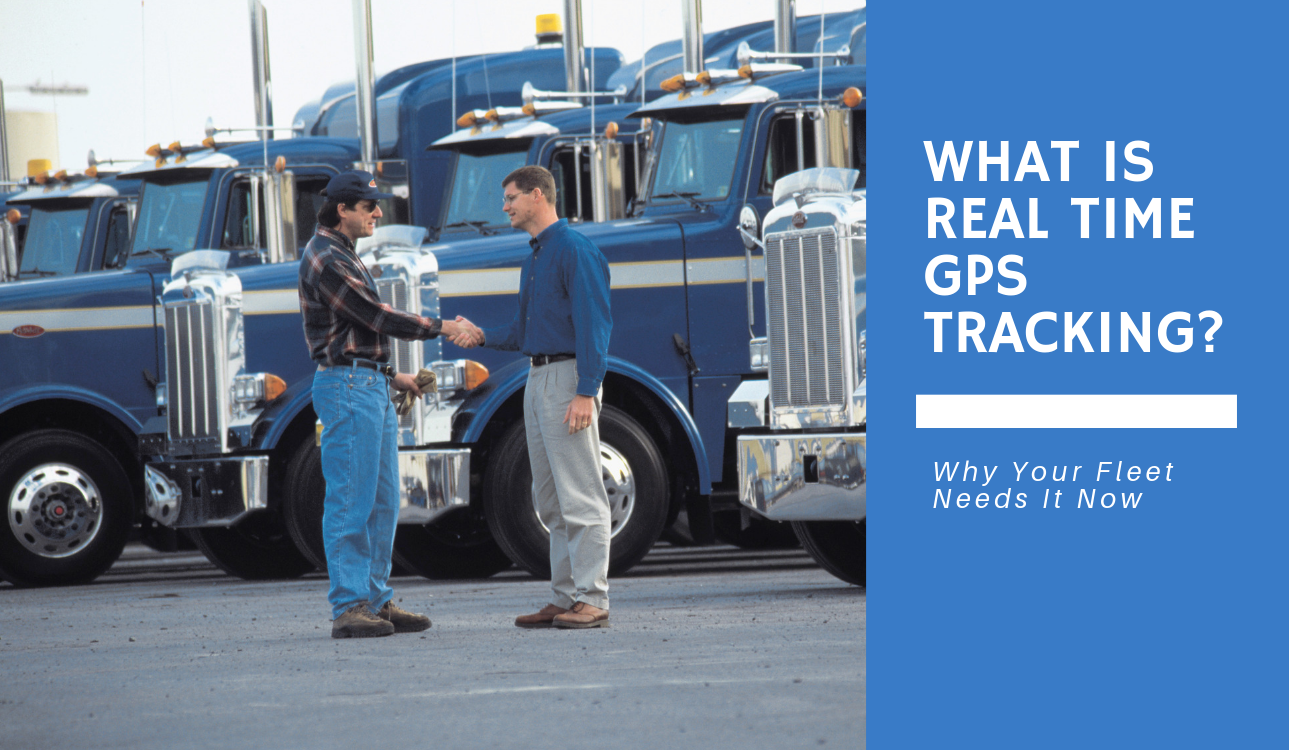 As a fleet manager or business owner, you know you need to keep track of your vehicles and assets, as well as keep your employees safe. You also have to stay compliant with government regulations. That's where GPS tracking systems come in. But what exactly is real time GPS tracking?
In conjunction with user-friendly software or cell phone apps, real-time GPS tracking allows you to not only track the history of where your vehicles and assets have been, but it also allows you the peace of mind in being able to track fleets and assets live.
Because real time GPS tracking works with GPS satellites and cellular networks, you can track your fleet worldwide, receiving live data and reports on multiple vehicles and assets at one time for an affordable monthly fee. With this type of fleet tracking, ROI is quickly realized in reclaiming lost productivity alone.
What is Active GPS Tracking?
Active GPS tracking utilizes a small device, called a vehicle GPS tracker, to provide GPS real-time tracking. A real-time GPS tracker is a small device that provides continuously updated information on an object to which it is attached.  
Also called an Active GPS Tracker or a Live GPS Tracker, a GPS real-time tracking device works with a software subscription service to allow live tracking of multiple assets and vehicles, including entire fleets at once.
How Does Real Time GPS Tracking Work?
An active GPS tracking device can be hidden in a glovebox or elsewhere, or it can be attached to an object via magnet, Velcro, or clip. When the device is turned on, satellites or cellular networks track its location and send detailed, live updates via software to a computer, tablet, or phone.
Get up-to-the-minute ETAs and improve accountability, fuel efficiency, and productivity with live GPS tracking. With real time monitoring, you can discreetly track your fleets and assets, receiving alerts when drivers experience engine trouble, travel off-route, idle too long, or speed.
Utilizing the software that comes with the active GPS tracker, you can view live data via points on a map and analyze this data via easy-to-generate reports.
Maps can be viewed from either a satellite perspective or street-level perspective, allowing you to drill down to even a building-level view to obtain the address of where a vehicle or asset is parked.
What Are the Advantages of Real Time GPS Tracking?
Unlike passive GPS tracking, which only provides historical data, live GPS tracking provides data in real time. Information collected through real time GPS tracking includes a vehicle or object's:
⏩  Location data
⏩  Direction
⏩  Speed
⏩  Stop duration
⏩  Idle time
⏩  Miles traveled
⏩  Fuel consumption
Users can even set limits for speed and distance. The real time tracking device can also send the user alerts when certain speeds are reached or if a fleet vehicle or other asset travels outside of a specific area. Some units come with a panic button and two-way communication, so if a driver is lost, their real-time location is sent to the user via email or text.
Conclusion
Affordable and compact, active GPS trackers allow business owners to track their fleet and assets in real time. By utilizing a group of Earth-orbiting satellites, live data can be passed to the user on more than one vehicle or asset simultaneously.
In conjunction with a simple-to-use software system, real-time GPS trackers provide peace of mind with amazingly detailed data and reports.
Have you used real time GPS tracking? Are you interested in learning more? Post your comment or question below!
Categorised in: GPS Monitoring Service, GPS Tracking Service
This post was written by Writer