Lowest Cost Rental Plan Available
No Contract | No Hardware Cost
Contact for Pricing*
The Global Positioning System (GPS) is a beautiful function of physics. Taking into account Einstein's theory of general relativity, the GPS allows users with a GPS-compliant receiver to track and know their location from almost anywhere on the globe. The incredible usefulness of GPS's precision with timing and positional information has trickled down to the world of asset tracking: if you own or operate a fleet of vehicles, you can monitor their locations with updates within 30 seconds.
GPS tracking of a teen driver is no different from GPS tracking of a plane or a boat. Simply mount a receiver inside the vehicle, and, so long as it has power, it will transmit GPS information to a log that can be accessed remotely. GPS Technologies offers solutions for asset tracking that are perfect for anyone, from a concerned parent wanting to know where their newly licensed child has been to the operator of a fleet of hundreds of vehicles who needs to lower costs and improve efficiency.
Most insurance companies offer substantial discounts when tracking systems are installed in fleet vehicles. That discount would more than offset the low, low cost of any one of our GPS Tracking Systems. For some companies the discount and the tax write off negates the cost of the unit completely.
Combine the insurance discount with your tax write off and the unit cost is essentially FREE. The added fleet efficiency, managed driver hours, route controls, gas savings, stop length records, etc, equal REAL PROFITS added directly to the bottom line.
GPS Rental Solutions
Renting fleet-tracking devices from GPS Technologies offers great benefits to operators, not the least of which is a cost-effective solution for asset tracking and fleet management.
The type of GPS solution you need depends on your particular needs and the required frequency of updates. The most basic GPS Rental Solutions monitoring models log events once every few minutes, while much more complex models can send information in with updates just after 30 seconds. Numerous solutions are available, depending on your business needs! Regardless of which features you're looking for, you can rely on always getting extremely accurate information that you can use to improve decision-making and manage your business more effectively. And with prices starting around just $31.95* per month, GPS Technologies rental solutions just make sense.
Business Benefits of GPS Technology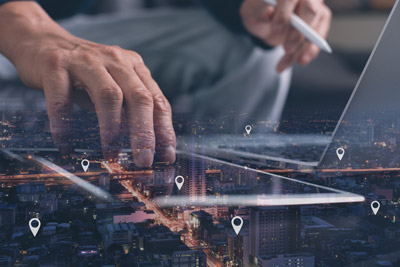 Increase productivity, reduce overtime, and improve turnaround times with GPS tracking. Our software allows you to calculate the most efficient route to your destination, and this saves on both fuel costs and man-hours for drivers.
Traffic patterns are variable and can cause huge delays, causing shipments to be late, so our system can increase customer satisfaction and driver accountability by offering alternate routes when traffic is detected.
Increase driver accountability for high-risk drivers by tracking their mileage reports, and some solutions can even be combined with vehicle ignition systems so that no unauthorized vehicle usage can take place.
Fleet Tracking & Management
All of our GPS units are small enough that they can easily be concealed on vehicles, so discreet installation is possible. Once in place, you will be provided with detailed activity reports on a number of the most important driving statistics, such as stops and starts, address locations, mileage, speed, hours of service, and rapid acceleration events. Every one of our GPS devices is capable of logging information for at least six months.
Depending on the time resolution you desire, you can conceivably log every single stop of the vehicle: information on the date, location, and time of the event will be stored and can be closely monitored. Speed alerts will be triggered at a certain threshold, and that information will be transmitted back to you, either by cell phone or via email, so that you are made aware of dangerous driving by your drivers as soon as it occurs. This can be an important feature when it comes to driver safety, making it great for teenagers just getting on the road.
Advanced functionality and additional features like geofencing and landmarking are also available with certain models. Restrict your drivers to certain, predefined areas and check on their status with landmarking, recording the progress of the vehicle against landmarks pinpointed on their preset routes. Since our devices all have built-in antennas, they have outstanding GPS sensitivity and are consequently well protected against the signal and device failures common to the industry, and mileage reports can easily be generated for state authorities to help you stay in compliance with all governmental regulations.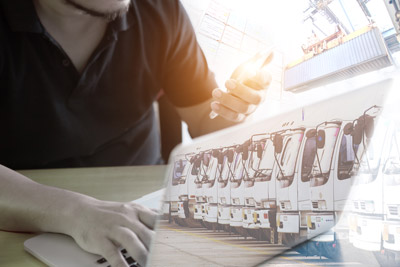 Want to lower your insurance rates at the same time? Use GPS tracking. As a result of logging vehicle locations, unauthorized or inappropriate usage of your vehicles is eliminated. This alone can reduce wear and tear and keep your fleet in much better shape for longer periods of time, reducing maintenance needs and costly downtime. Alternatively, mileage logging allows for all equipped vehicles to ping you when a certain number of miles have been driven, allowing you to schedule timely tune-ups to minimize the chances of failure later down the road.
By holding your drivers more accountable, you can ensure a more tightly-run and streamlined operation and see significant savings in both time and money. In short, your business will see a significant return on investment soon after the installation of your fleet GPS monitoring equipment.
Why Choose GPS Technologies?
People have trusted GPS Technologies for many years, and have come to rely on our company's work to optimize routes, save time, and reduce overhead. Numerous people and companies have seen significant savings by working with us, with your asset-tracking needs today!
Managing your fleet offers added profit!
Lowest cost monthly plans in the market today
View all vehicles at once, on google maps or satellite images
Track mileage, stop times, start times, and Locations
Daily, weekly and monthly reports, 23 different reports
Unlimited instant locates included
Intelligent dispatch capability – find closest vehicle
Speeding & multiple boundary alerts to phone and email
Won't drain battery – alerts for low battery
Door unlock – at no extra charge
Starter disable – at no extra charge
Simple installation
*$31.95 per month. First 3 months, activation fee and deposit must be paid at the time of purchase.
Price does not include an activation fee of $39.95 or a refundable $50.00 hardware deposit.