GPS tracking is a technology that has quite a few uses, and at first glance, you might not think it has anything to do with child safety, but in truth it can play a large role in helping to keep your children safe. There are all kinds of dangers which your child could conceivably be confronted with during their normal daily routine, and the nightly news is full of incidents such as these which can turn out badly.
In order to be sure that your children aren't exposed to these dangers, or that they can be avoided promptly, you might want to consider the use of GPS Technologies' Teen Tracker system. Wouldn't it be worth the small investment in this technology to have confidence that you'll have when you know where your kids are at all times of the day, and that they're right where they're supposed to be?
Teen Track Plug is an excellent covert, live unit that is quick and easy to self install. The unit is an excellent Teenager Tracking unit, offering 1-minute updates at only $14.95 per month with no annual contract or cancellation fee. The GPS and cellular antennas are fully integrated with no external antennas to mount. There is no software to install. With Internet access, our web-based application will provide you with comprehensive reports, routing, speeds, and visibility of your vehicle on our mapping system. The Teen Track plug is limited to cars and light duty trucks up to 1 ton.
The Teen Track Plug will provide you with the ability to locate your teen driver instantly and give you the peace of mind you need to trust them in their first years of driving. Check with your insurance company for rate discounts.
Safe Teen Tracking
Tracking your teenager can be done discreetly and safely, with a device being quickly installed inside of their vehicle. It's a small device which is very easy to install, and its presence won't even be detected by the subject. Because it has ultra sensitivity to GPS signals, it will always be receiving the needed data from satellite positioning systems. That will make it possible to locate your child accurately no matter where he or she goes during the day.
Rather than being an invasion of privacy for your kids, this little device can help to keep them out of harm's way, and that will give you peace of mind that they're not straying from the daily routine into something dangerous. Geo-fencing capability will alert you to the fact that they've left the school grounds for some reason, and if they make unscheduled stops on their way home, you'll be aware of that too. You can have alerts setup to cover a number of different situations, and have those alerts sent right to your cell phone or email inbox, so you can quickly react if need be.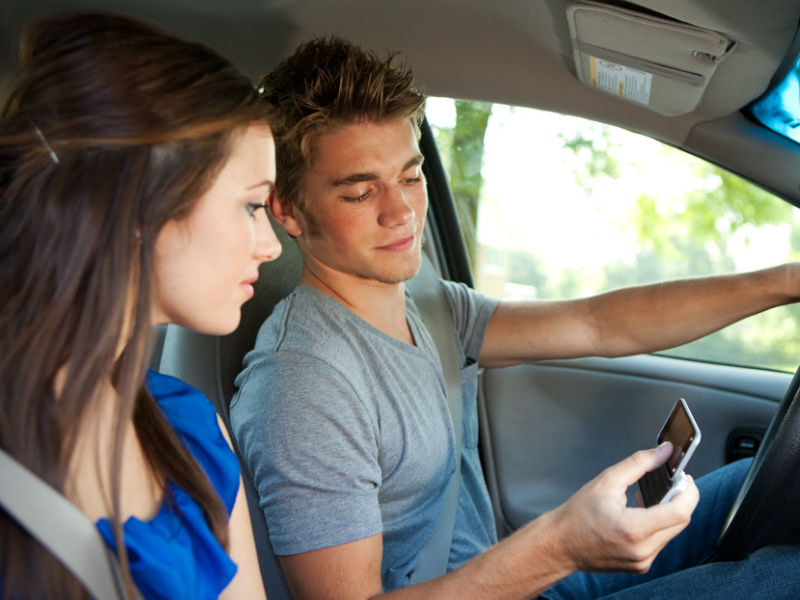 Features
The Teen Tracking Plug made by GPS Technologies is a small device which costs very little at only $14.95 per month, and can provide you with updates at 60-second intervals so you'll never be in the dark about what your child is doing. The monthly fee does not lock you into any kind of contract and there's no fee involved with cancellation, although once you start using the device you won't want to cancel the service because it's so useful. It can be easily removed and installed in another car if that becomes necessary, and it will always have the same ease of installation.
You can establish zones which are pre-defined boundaries of real-world areas such as a school zone, so that you'll know when your teenager has left that area and gone somewhere outside the boundary. This geo-fencing capability can help you to be sure that your teenager is right where they're scheduled to be at any time of day, and when they do leave the area, you'll be able to track where they go. The device will also alert you when maintenance is required, at which time you can discreetly find an opportunity to perform that maintenance and return it to its normal position
Key Features
No installation costs
Self installs in seconds
Move from one car to another
Covert installation
One minute updates
Geo fencing and landmarks
Speed alerts via email or cell
Maintenance alerts
Specifications
1 minute monthly & annual plans.
Self installed: Just plug it in.
Built-in GPS and cellular antennas.
Weight: Under 2 oz.
Power: +10 to +16 VDC
Size: 1.8″ x 1.5″ x 1."
Benefits
Undoubtedly the biggest benefit provided by the Teen Tracking Plug is that it will give you peace of mind in knowing where your child is throughout the day, and that they're not somewhere which might be dangerous for them. The alerts you get on your cell phone or email inbox will tell you anytime your child has encountered a previously defined situation, and that will give you time to react immediately if necessary. For instance, if your teenage driver should be involved in an accident, you'll know right away and you can alert the proper authorities, and you can direct medical assistance to that location if it's needed.
If your child is engaging in unsafe driving practices such as speeding, you'll know about that and can discuss the situation with him or her at an appropriate time. This can help to modify their driving behavior and help them to avoid such dangerous practices in the future. This will be a benefit both to your child and to yourself, because it will encourage safer driving and a more responsible approach to being on the roadways.
Closing
Installing a device like the Teenage Tracking Plug is not a sign that you mistrust your teenage driver, but is instead an indication of your desire to keep them safe and away from harmful situations. Contact us at GPS Technologies if you'd like to learn more about our teenager tracking devices, so you can have peace of mind about your teenager's daily activities, and so you won't have to worry every day about what they're doing.
Learn more about GPS Teen Tracking System