In the middle of a snowstorm, knowing when a plow will come to clear your street comes in handy. In some cities and states, residents know when they need to have their cars moved and when they will be able to get out on the road again thanks to GPS for snow plow tracking.
With the latest in GPS for snow plow tracking from GPS Technologies, residents only need to spend a few seconds on their smartphones to know when the last plow came down their street and when the next plow will come. But it isn't enough just to install GPS in snow plow trucks to achieve maximum information for anxious city residents.
How Does Modern GPS for Snow Plow Tracking Work?
Fleet tracking of snow plows is nothing new. For at least a decade, most cities have had the ability to track their snow plows from some kind of monitoring system in their maintenance office.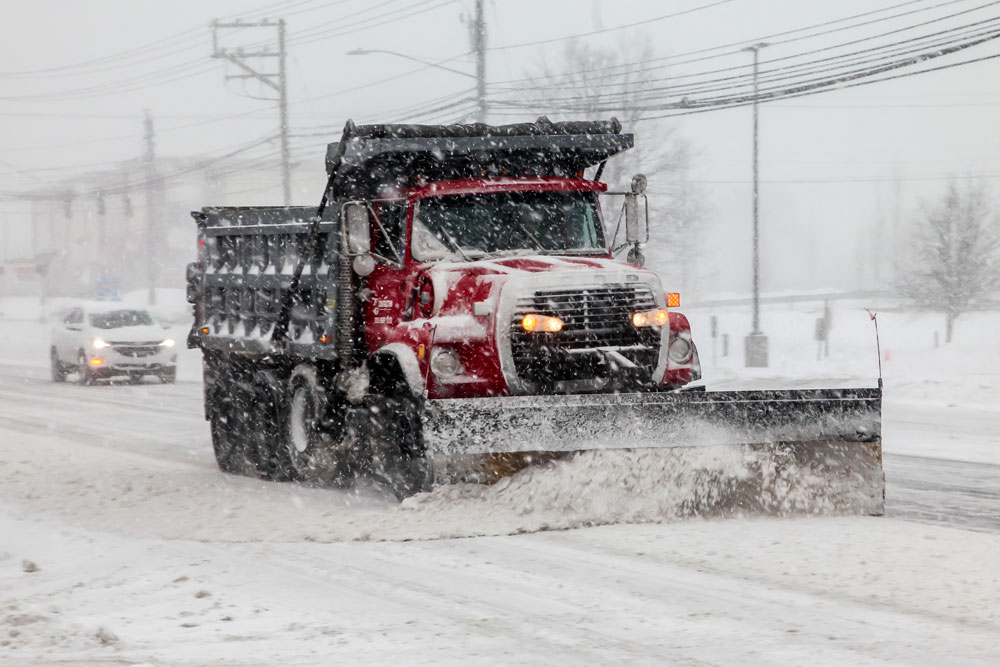 Different symbols show the locations of plows in real time. Dispatchers can respond to calls from concerned taxpayers by directing the nearest snow plow to the area with the most urgent need.
But this old style of GPS tracking for snow plows is not transparent. Even if a snow removal crew posts progress updates on Facebook and Twitter, the information they provide does not necessarily match up with the information the public is looking for.
Connecting snow plow GPS to a publicly available smartphone tracking app is one way for maintenance departments to send the message, "Yes, it's snowing. We are on it."
But some cities and states have not even considered making the information that they can easily see on a map in their dispatch office immediately available to the public. Why is that?
GPS Tracking for Snow Plows Can Be Technically Complicated
The City of Boston rolled out a website and its smartphone app SnowCOP (Snow Common Operating Picture) for the public to track snow plows in real time in 2013. But the first time they launched their app, they had to take it down again in just a week.
The problem for SNOWCOP was that there was just too much public interest in tracking snow plows. The website and the app repeatedly crashed. They just didn't have enough bandwidth for the app and their site.
It took the City of Boston another two years to get their snow plow tracking system running consistently. They revamped their website to let the public enter any address in the city. This returns a screen with:
One column with snow operations supports data, listing the number of snow plow operators on active duty and the number currently on snow plows.
One column listing current snow response, whether the crews are salting three streets, removing snow, or cleaning up salt after the storm.
And one column with general stats about snow removal in Boston for the current year including how many miles of streets have been plowed, how many tons of salt have been applied to roadways, how many hours snow plows have been in operation, and how many inches of snow the city has received in the current year.
Real-time reporting about snow plows increases positive engagement between residents and their city. But the benefits of GPS for snow plows don't stop there.
GPS Creates Big Data for Smart Snow Removal Decisions
Cities send out snow plows when citizens call in. Cities send out snow plows "where they have always sent them." But data from GPS for snow plow tracking can be used for cities to make better-informed decisions about where and when to plow streets.
Uber, for example, uses data from snow plow removal (and many other factors) to predict when and where people will decide just to sit out a storm, and where there will be increased demand for rides. The State of Iowa uses GPS data to measure breakdowns and mechanical problems with snow plow trucks. It identified the factors that increase repair costs and compares that to the cost of buying new trucks.
Big data from vehicle track devices led the State of Iowa to the surprising conclusion that it was less expensive to buy new snow plow trucks every seven years than it was to follow decades of transportation department policy to keep snow plow trucks for 15 years.
As the CEO of a software company said to Bloomberg News, "The challenge is that some cities are stuck in an old mentality, where they are more comfortable investing millions of dollars in new plows than they are in technology," he says. "They haven't wrapped their heads around the idea that a few hundred thousand dollars in technology can have a larger impact than $10 million in equipment."
So, Where Do You Start with GPS for Snow Plow Tracking?
There are cities, counties, and states that don't have any GPS tracking at all in their snow plows. The place to start with modernizing GPS is to make sure every plow is trackable! The ability to find a missing snow plow can save an operator's life or track down a missing vehicle.
Next, most road and street maintenance organizations look at remote sensors for tracking how much deicer is being put down, or how much snow is left on the road. GPS systems also monitor fuel efficiency and engine performance. They can warn dispatchers of problems that will require downtime unless they are taken care of right away.
Then, with the right GPS provider, your department can take the next step, providing real-time information to the public.
Do You Have Questions? GPS Technologies Has Answers!
Whether you have a fleet of one vehicle or you operate thousands of vehicles, GPS Technologies has the hardware, software, and industry experience you need. Contact us at (847) 382-5107 or ask for a custom quote.