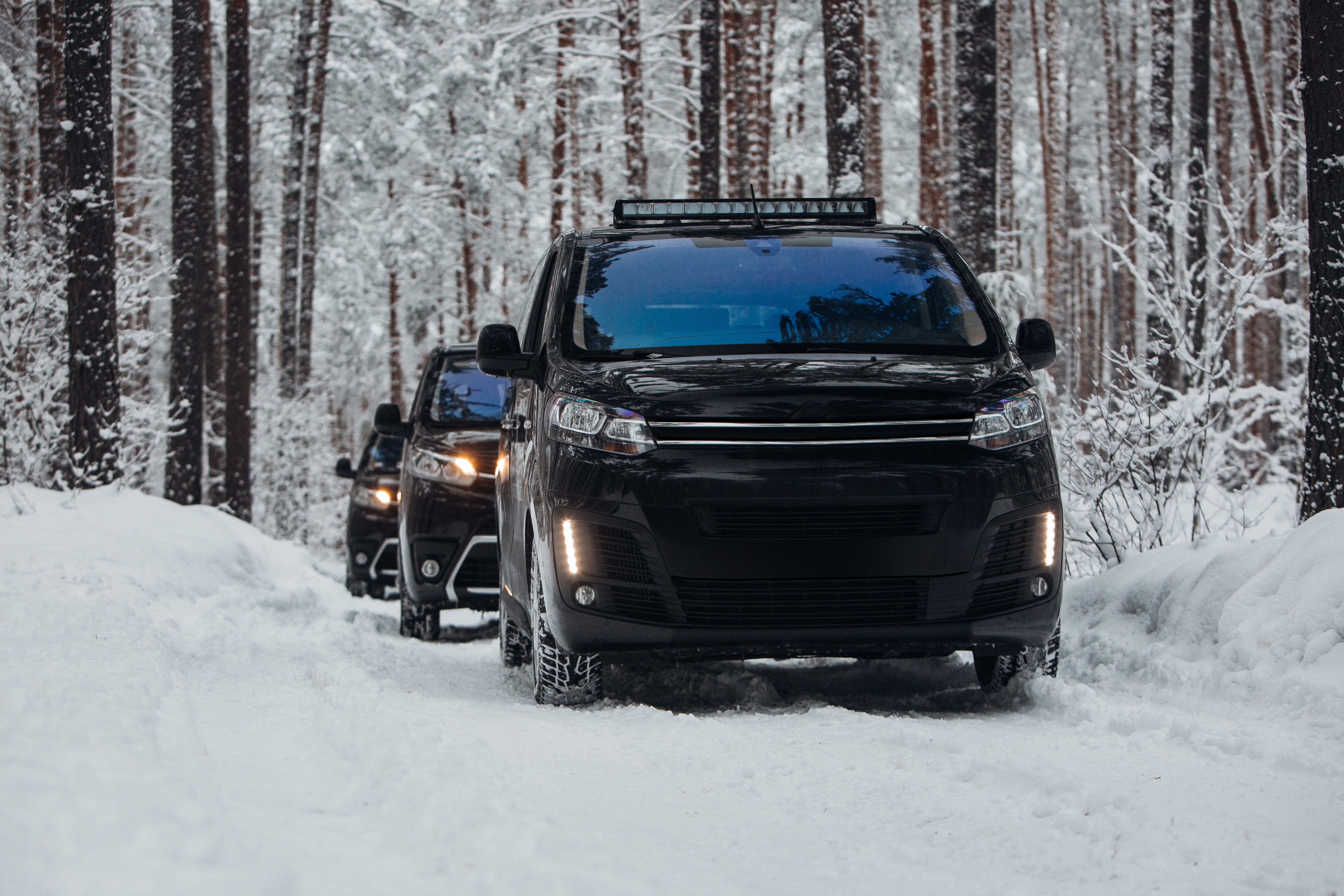 The winter of 2022-2023 has brought extraordinarily bad weather all over the United States. Even if you did not do all of your preparations in time for this winter, there is still time to take the necessary measures to help your fleet run more smoothly this year, and you will have a checklist for next year.
Check Your Brakes
There is a standard list for making sure that your brakes are ready for winter driving conditions. You usually need to replace the front disc brake pads every few months or whenever your vehicle has been driven 10,000 to 20,000 miles. Winter is not a time to have worn-out brake pads. For most delivery vehicles, the rotors must be replaced every 12 to 18 months or whenever they have 50,000 to 70,000 miles on them.
The air dryer system is an important item on your checklist for winter brake maintenance. The air dryer removes moisture from the brakes and keeps lines from freezing. If lines freeze solid, the brakes don't work. You will also need to bleed and check the parking brake lines.
You don't have to cross your fingers and hope your brakes stand up to winter weather. GPS Technologies can set up telematic monitoring for each of your vehicles to give you constant data on braking performance on your entire fleet. The system can even be set up to notify management, the dispatcher, and the driver when brake failure is imminent.
Take Care of Your Tires
Winter driving is a time you need good tread on your tires. In most states, you are legally required to have 2/32 of an inch of tread on each tire. In most situations, you need 5/32 of an inch of tread for the traction you need to stay on the road in winter driving. If you don't have 5/32 of an inch tread, consider replacing rib tread tires with lug tread tires for a better grip on the road.
You can ensure tires wear down at the same rate by rotating them at the beginning of your winter driving season. Of course, if you are already in the middle or at the end of winter driving and still need to rotate your tires, rotate them now!
Keeping tires properly inflated is a cold-weather challenge. A deflated tire is a smaller tire. It gives your car or truck less forward momentum with each rotation of the axle, so your fuel efficiency decreases. The tread also wears out faster on deflated tires. That's why many fleet managers insist that drivers check tire pressure at the beginning of every shift.
It's a good idea to manually check tire pressure at least once daily. Still, it is even better to have continuous tire pressure data from telematic systems installed by GPS Technologies. You can detect potential problems before they become actual problems on the road.
On Your Diesel Vehicles, Check Your DEF
DEF stands for diesel exhaust fluid. DEF is a mixture of urea and water that turns into ammonia when heated and is stored in its own tank (never mixed with diesel fuel). The ammonia the DEF creates neutralizes NO (nitric oxide) in engine exhaust so it can be operated at higher horsepower without generating more air pollution.
The issue with DEF is that it can freeze. The mixture remains a liquid until the temperature reaches 11° F, but below 11° F, it becomes solid and can expand in its tank.
You need to be sure the DEF tank isn't full if you are going to operate your vehicles at 11° F or lower. You can consider adding nitric oxide monitoring to your GPS monitoring system, although not every company will want to do this.
Make Sure All of Your Sensors Are Working
Fleet vehicles built ever since the 1950s feature ADAS (advanced driver-assistance systems). These safety devices include anti-lock brakes, electronic stability control, cruise control, traction control, blind spot information systems, driver drowsiness detection, EV-proximity detectors, forward collision sensors, wrong-way driving warnings, vibrating seats to warn drivers of danger, and lane departure warnings.
Sensors don't work when they have been damaged or when the vehicle is out of alignment. They only work if they are clean. The beginning of winter driving season is a great time to ensure all sensors are in working condition, although it is never too late to give them a check.
Any information sensors can relay to a driver can also be relayed to the home office. Ask GPS Technologies about integrating sensors into telematic driving systems.
Keep Your Batteries Charged
Cold weather puts extra demands on batteries, especially batteries for diesel vehicles. Batteries for diesel trucks, pickups, and utility vehicles are challenging to jump, and drivers can be stuck on the side of the road for hours waiting for help.
Consider buying batteries with insulation to protect them from the winter cold. Insulated batteries are also protected from the summer heat and provide more reliable starting and lighting power all year round.
Battery status is another system you can have integrated into your GPS telematics monitoring system by GPS Technologies.
Make unpredictable winters predictable with appropriate maintenance steps and connecting your fleet with GPS Technologies. Just a few hours of winter maintenance time and the installation of telemetric tracking technology can keep your fleet going all winter without missing a beat. GPS Technologies can enable you to identify and fix potential problems before they become real problems on the road.
Have any questions? GPS Technologies has answers! Call us on weekdays at (847) 382-5107 or request a quote online.
Categorised in: Fleet Tracking
This post was written by admin